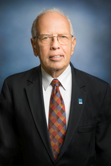 Poverty and Public Health
By John Baackes
CEO
L.A. Care Health Plan
Original Publish Date: December 4, 2018
We are officially in the season of giving – a time of joy. But for those who are simply trying to keep a roof over their heads and food on the table, it is a time of high stress. Maybe it's a time for all of us to give some thought to why so many in this country have so little.
Today, more than 40 million people live in poverty in the United States. About 7.5 million of them are right here in California – 19 percent of the state's population. And not surprisingly, research has shown there is a link between being poor and poor health. More than a decade ago, the World Health Organization (WHO) asked, "Why do we keep treating people for illnesses only to send them back to the conditions that created illness in the first place?" The WHO was talking about poverty, which often leads to hunger, and that can lead to poor performance by school-age children.
L.A. Care Health Plan, the largest publicly-operated health plan in the country, with more than two million Medi-Cal members, serves many people living and working in poverty in L.A. County. Our mission is to provide access to quality care, and also to support the safety net. Over the years, we have taken several steps to accomplish that mission, and in the process, we help lift some of our members out of devastating circumstances.
Perhaps the most vulnerable individuals among this group are those experiencing homelessness. The latest count found there are 53,000 homeless individuals in Los Angeles County. Last year, L.A. Care committed $20 million over five years to the county's Housing for Health program with the goal of housing 300 people. We have housed 99 individuals to date.
Over the past three years alone, L.A. Care has also committed more than two million dollars to expand enrollment into CalFresh (food stamps) and Earned Income Tax Credit programs, a benefit for working people with low to moderate incomes that could reduce the amount of taxes they owe or give them a refund.
We know these efforts alone can't lift people out of poverty. In fact, it will take social and political scientists to answer the question of why so many in this country have so little, and what can be done to lower the number. But business owners can take steps in the right direction seeing as poverty is also a business issue. After all, most poor people are part of the workforce.
So, what can businesses do to ensure they have a capable workforce and simultaneously help lift people out of poverty? For one, businesses can invest in early education given that a lack of education is one of the root causes of poverty. Research has shown that investing in children from birth, boosts academic and economic achievement. Further, businesses can help their current employees by facilitating access to education and learning opportunities. For instance, employee development or tuition assistance programs help raise the skills of workers – and that, in turn, helps those workers qualify for higher pay. One example of how the business community has been engaged in addressing poverty in California is by being directly involved in policy and system change opportunities to reduce poverty. A group called Lifting Children and Families out of Poverty Taskforce recently completed its recommendations to the legislature to end deep child poverty as soon as possible, and committed to reducing overall child poverty by 50 percent. The business voice in this effort is critical to ensuring that solutions to end poverty are inclusive of all individuals, including those in the workforce.
The reality is, there are a number of endeavors on which businesses can embark to help address a wide range of issues that prevent our neighbors from rising out of poverty and, as a result, keep them from living a healthy life. Every business must decide what is doable but, more importantly, it must execute on it.
As we celebrate this season of giving with our friends and families, I hope we all take some time to consider how we can help to make a difference in a meaningful way.
Happy holidays.
John Baackes is CEO of L.A. Care Health Plan, the largest publicly- operated health plan in the U.S.