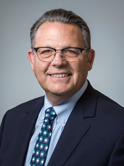 Does California Really Need Another Medical School?
By Dr. J. Mario Molina
Founding Dean
KGI School of Medicine
Original Publish Date: September 10, 2019
Keck Graduate Institute (KGI) is building a new medical school in southern California. You have to ask yourself, why? Do we really need another medical school in California? The answer is yes, we do, and Claremont is the perfect place to build one.
We face a crisis in the physician workforce in this country, but it is especially so in California where about one-third of physicians are over the age of 60. Many physicians will be retiring over the next decade just as the wave of baby boomers drives the demand for physician services ever higher. The truth is, the pipeline of physicians coming out of medical schools has not kept up with the growth of the population or then demand for medical care. We are scrambling to catch up. And it is not just physicians, we face a shortfall in many areas of the health professions.
California is the largest exporter of students of any state in the nation, yet more than 70 percent of students who completed graduate medical education in California stayed in California. If we build it, they will stay.
Claremont is the ideal location for a new medical school. Located centrally to Los Angeles, San Bernardino and Riverside counties, it is surrounded by 17 million people, second only to New York in population. California has the largest ethnic minority population of any state in a country that is witnessing what is a future trend for the rest of the country; more Latinos and Asians live in California than any other state. At the same time, much of Riverside and San Bernardino counties are rural and face the same challenges with access to healthcare as other rural parts of the country.
The new medical school will be able to draw on the richness of the Claremont schools. KGI contributes world-class science and technology, as well as a School of Pharmacy and Health Sciences, while Claremont Graduate University already brings economics, healthcare policy, public health and renowned business school. Finally, Harvey Mudd College is one of the finest engineering schools in the nation. Together, these resources bring to the table resources that few medical schools can match.
The KGI campus boasts new buildings and plenty of room for expansion.
But to justify a new medical school, we must do more than just contribute to the physician pipeline. With about 145 medical schools in the country, why not just ask each school to add an additional student? The answer is simple, we aim to do more.
With the publication of the Flexner Report in 1910, medical education underwent a profound change. Medical schools began to require a four-year college degree before admission, the curriculum was expanded to four years and a greater emphasis was placed on science and research. The Second World War saw the success of the Manhattan project and Washington policy makers saw what Americans could do when our country's resources were marshalled behind projects in science and technology. Medical schools benefitted from the outpouring of government grants in the biomedical sciences. Today the United States spends more per person and more as a percentage of our economic output on healthcare than any other nation, and yet we are not getting the results that we want. Perhaps it is time to rethink how we educate physicians?
Medicine today is delivered by teams of healthcare professionals and physicians need to learn how to work in teams. Teamwork is something that KGI is already skilled at teaching. As medical knowledge grows at an astounding pace, physicians in the 21st century need the skills to evaluate and incorporate new knowledge and the ability to educate themselves throughout their lifetimes. At the same time, they must possess the humility to know their own limits and when to seek help from others. The old model of healthcare focused on disease. We now understand that social and cultural factors are just as important in establishing good health. Finally, along the way as we pursued science, the art of medicine has been left behind. Tomorrow's physicians need to have empathy for their patients' suffering and selfless concern for the well-being of others.
The mission of the new medical school is to advance the knowledge of science and the health of our communities by preparing clinicians who will redefine quality and compassionate care. Our vision is to create a new standard for medical education in the 21st century.