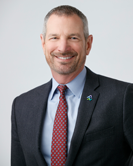 Analysts Said Healthcare Employment Would Decline - Instead, It Exploded
By Ralph Henderson
President, Professional Services and Staffing
AMN Healthcare
Original Publish Date: June 4, 2019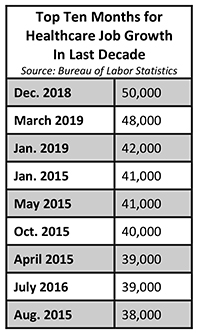 Not long ago, the prevailing belief was that the post-recession and Obamacare-fueled growth in healthcare employment was coming to an end. Making predictions for 2018, healthcare industry analysts said that overall healthcare industry job growth would sag and that hospitals would experience declining jobs for at least some months. Their reasoning was that patient demand was softening because sign-ups for Obamacare had leveled off, value-based medicine would reduce hospital admissions and keep people healthier, and hiring would freeze up due to uncertainty about healthcare policy during the Trump administration. Healthcare employment trends were heading downward, they said.
But, the reverse happened. Healthcare jobs grew at a robust pace in 2018 and have soared so far in 2019, according to the US Bureau of Labor Statistics (BLS).
In the 12 months preceding April 2019, healthcare employment grew by 404,000 jobs, the largest 12-month period of growth since 1991. The biggest three months in the last ten years were last December, January and March, with December reaching 50,000 in healthcare jobs growth.
In addition, hospital jobs, which were supposed to take the biggest hit due to the change from fee-for-service to value-based reimbursement, increased every month in 2018 and in 2019, for a total of about 106,000 for the 12 months preceding April, with strong job growth in October, November, January and March, according to preliminary BLS data.
Jobs in ambulatory care rose by 262,000 in the 12 months preceding April. Clearly, healthcare is a jobs juggernaut with no sign of slowing down. It's the nation's largest industry with about 16.3 million people employed.
Powerful Forces Driving Demand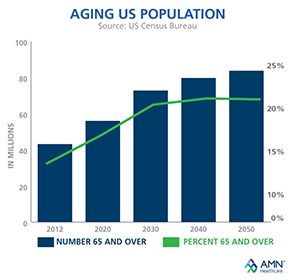 So, what happened? Why did healthcare employment defy the dire predictions? Because the real forces driving demand are much stronger than regulatory changes and healthcare policy, which may be very important to healthcare industry leaders but apparently not to the patient population. Powerful forces are driving more people into all types of healthcare facilities; the dominant drivers are the aging US population and improving economy. People over 65 utilize healthcare about three times as much as the general population, and also are more likely to have chronic conditions, greater acuity of conditions, and multiple conditions. According to projections from the US Census Bureau, the number of people over 65 will grow from 43 million in 2012 to 84 million in 2050, rising from 14% of the population to 21%, as the nation's overall population also grows. This population also is Medicare-eligible, so the rising demand for services will be covered, a factor that further increases healthcare utilization.
The improving economy also is responsible for increasing demand for healthcare. The number of overall jobs is projected to increase by 11.5 million from 2016 to 2026, according to the US Bureau of Labor Statistics. That means more jobs with healthcare coverage and more money in people's pockets that can be spent on copays, deductibles, and direct healthcare costs.
Healthcare is a labor-intensive industry. Rising demand for healthcare services translates directly into rising demand for healthcare workers who provide those services.
Over the last several years, public attention has focused on the heated politics of healthcare policy, at first the launching of Obamacare and then the attempts to dismantle it. Inside the healthcare industry itself, intense discussion focuses on the transition from volume- to value-based care and population health, leading to speculation that changing reimbursement incentives could empty out hospital beds and keep more people healthy so they would need less care. And if Obamacare were reversed, it looked like millions of people would suddenly lose coverage. The result would be softening demand.
But while it seemed like demand for healthcare services and workforce would ease, it was far from the truth. Powerful drivers of healthcare demand have been chugging along unseen by most; an aging population and improving economy easily eclipse the changes to Obamacare and reimbursements.
A Super-heated Jobs Environment
Employment in the healthcare industry also is impacted by other powerful drivers which have helped create a super-heater healthcare jobs environment that's generated its own demand vortex. Rising demand for healthcare services comes on top of existing shortages of healthcare workers. Currently in healthcare, there are approximately a half million unfilled jobs, according to BLS data. For every healthcare job hire, there are about twice as many job openings. It's been that way for the past few years.
A retirement tsunami of Baby Boomer nurses, physicians and other healthcare professionals has already hit, with approximately 10,000 people now turning 65 every day. About a third of today's workforce are from the Baby Boom generation, which is larger in numbers than succeeding generations. So, not only are there fewer replacements, but there is also a loss of experience, which is vital in the healthcare industry. A new grad nurse cannot replace a specialty nurse with decades at the bedside or in management. The same problem is happening with physicians, therapists, leadership, and other roles.
With supply tight and demand rising, hospitals, health systems, and other healthcare organizations find themselves in fierce and intensifying competition to recruit and hire the quality professionals they need.
All indications are that this this situation will get worse for years – possibly decades. The population will continue to age: By 2030, our country will have more people over 65 than under 18. Overall job creation will vary but the upward trend is expected to continue. Baby Boomer healthcare workers will eventually all retire, and since their generation is larger in size than Millennials and Gen Xers, there will be a smaller pool to replace them. Rising demand for healthcare services is colliding with the growing shortages of healthcare workers, creating a perfect storm that could rage for years. Policy and regulatory changes can have some effect on this storm, but not much, and they won't change its course.
Crisis with No Easy Solution
The problem of rising demand for healthcare services and shortage of supply of healthcare workers has reached a crisis stage with no quick fixes. We need more healthcare professionals graduating from educational and training programs and transitioning into practice. However, first we would have to address the healthcare faculty shortage in education, particularly in nursing – more than 75,000 qualified applicants were turned away from nursing programs last year due to faculty shortages and budget constraints, according to the American Association of Colleges of Nursing. A federal cap on graduate medical education, set in 1997, is hampering any response to the physician shortage, which is projected to reach up to 122,000 by 2032, according to the Association of American Medical Colleges. A recent survey by Merritt Hawkins, the nation's largest physician search firm and an AMN company, revealed the current impact of this problem: Two-thirds of final-year medical residents receive 51 or more job offers, while 45% get 100 or more. Clearly, we need to be preparing more nurses, physicians and other healthcare practitioners.
Innovation is also critical, including to maximize the roles of permanent and temporary staff at healthcare organizations. We need a virtual revolution in technology-enabled workforce solutions to optimize care provided by nurses, physicians, therapists, and other healthcare practitioners. And we need to accelerate the expansion of team-based care, case management, telemedicine, care coordination, population health, increased autonomy for advanced practice nurses, and other quality and efficiency innovations that can expand the breadth of patient care.
But first, our industry, state and federal policy makers, and the American public need to recognize that rising demand for healthcare services and shortages of healthcare workers have become a crisis that could impact the healthcare of tens of millions of people. And, the effects of this crisis will be unequal, with greater impact to rural and urban core areas, underserved populations, and specialty treatment areas. The combination of rising demand and workforce shortages is the biggest problem our healthcare system faces -- today and in the future.