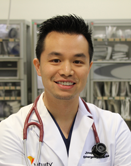 Beverly Hospital (Montebello, CA) Expands Emergency Care Center
By Joseph L. Chan, MD, FACEP
Medical Director of Emergency Care
Beverly Hospital, Montebello, CA
Original Publish Date: June 4, 2019
As the cost of healthcare continues to rise and disparities in access grow, the role of the Emergency Department as the ultimate safety net is becoming more and more prominent. The past few years have seen record growth in emergency visit volumes. Beverly Hospital has followed national trends with a 25% growth over the last decade. In spite of the overwhelming need, hospitals always strive to provide the best care for our community, but sometimes resources are strained when the physical buildings were not originally designed to accommodate the exponential growth in patient volumes. At Beverly Hospital, we are proud to be completing the expansion of our Emergency Care Center after years of planning. We are doubling our physical space and moving into a state-of-the-art facility so that we can offer Montebello and its surrounding communities the latest and best in care. There are four new resuscitation bays, a new ambulance dock, new nursing station, and 15 additional beds. The staff and I are extremely happy that we will be able to minimize waiting times by having more space to immediately evaluate patients.
The Beverly Emergency Care staff is one of the most caring and resilient groups I've ever had the privilege of working with. People often compare working in the Emergency Department to going into battle together. The cohesiveness that it takes to band together to manage whatever comes through the ambulance doors creates a real sense of unity. There is no other team with whom I would rather stand shoulder-to-shoulder as we resuscitate patients or heal any given condition. Every patient that comes through the doors of Beverly is someone's husband, mother, wife, father, daughter, son, or friend. Our team goes out of their way to show them the compassion and care that they deserve.
One of the things that actually brings us the most joy is when our patients notice even the smallest things we do for them. Our physicians regularly call back their patients after they have been discharged to make sure they are feeling better or to make sure they were seen for follow-up. Every few times, a patient or their family member will mention that they were so thankful that the doctor took the time to call them or had the patience to carefully answer every question before they were discharged, that it really reassured them. Moments like these really confirm why we chose this field – to help, comfort, and care for our community in the times when they need it most.
Joseph L. Chan, MD, FACEP has been the Medical Director of the Emergency Department at Beverly Hospital in Montebello, CA since 2018.