Director Critical Care Services, Tucson, AZ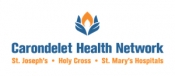 View the Website
Carondelet Health Network
Director
Tucson, AZ
March 13, 2018
Director Critical Care Services, Carondelet St. Mary's Hospital, 25K Sign On Bonus
Description:
The Director is responsible for a 28 bed MICU and 12 bed CVICU. St. Mary's Hospital is the home of the Carondelet Heart and Vascular Institute (CHVI). CHVI is St. Mary's premier service line and provides for open heart surgery (225 surgeries per year), cardiac cath/PCI, advanced electrophysiology studies, structural heart and complex vascular procedures. The Director pays a key role in working with Administration and specialty physicians to develop and grow this service line. In addition, St. Mary's implemented the Intensivist program July 2017. The program will continue to be developed by the Medical Director and the new Director for Critical Care Services. A multidisciplinary team will be developing critical care protocols, processes and tracking quality outcome metrics to drive improved critical care services. The Director provides leadership for the hospital's code blue, STEMI, brain attack and rapid response teams.
Accountable for all aspects of development, management, and financial success of specific environment. Develops and articulates mission and vision, develops business plan, financial and budget targets, and quality measures. Responsible for contractual relationships with physicians and provider partners. Develops plan to ensure outstanding customer/patient satisfaction.
Qualifications:
Education
Required: Masters in Nursing, Healthcare, Business, Public Administration, Management or related field.
Required: National Incident Management System (NIMS) class to be completed within 6 mo of position date.
Preferred: Be a graduate of an approved school of business; or equivalent direct experience in an ASC setting; MHA or MBA preferred.
Licensure Required: Current license as an RN in the state of Arizona
Preferred:
Experience Required: 5 years progressively responsible healthcare experience, adult critical care experience, 5 years progressively responsible management or business experience. Includes management of department, revenue accountability, contract management and staff management.
Preferred: 10 years in the above.
Skills Required: Team building, systems thinking, complex problem solving, negotiating and influencing, change and conflict management, facilitation of quality improvement process, evaluation of quality information, coaching and mentoring, strategic planning, business strategy development, management of large and complex projects.
Preferred: Have working knowledge of medical records systems. Have working knowledge of computerized bookkeeping through financial statements. Have familiarity with computer spreadsheets and word processing. Have experience in ambulatory surgery billing and collection procedures. Have working knowledge of credit laws and government regulations specific to relevant healthcare issues. Have competence in oral and written skills. Have the ability to organize and follow through on own initiative. Should have prior experience with survey preparation from approved accreditation associations (e.g., Joint Comission or AAAHC).
Knowledge Required: Quality improvement principles, healthcare trends, business and management techniques and principles, strategic planning, business strategy development, large project management. Regulatory requirements in healthcare field.
Preferred:
Technology Required: Knowledge of current uses of technology in business and healthcare field. Ability to use personal productivity tools (i.e.; Microsoft Office)
Any equivalent combination of education, training and/or experience that fulfills the requirements of the position will be considered.
See above
See above
See above